Cyber Chameleon as you see it now is the result of 30+ years of being a Culture Club fan, and almost 18 years in the Culture Club fan-site business.
I am from Melbourne, Australia and one of my earliest memories of Culture Club is hearing their song "Karma Chameleon" and becoming HOOKED. Absolutely hooked! With each listen on the radio that got taped repeatedly across a 60 minute GTape cassette, it instantly replaced my previous favourite song (Kenny Rogers & Dolly Parton's "Islands In The Stream") and an admiration (some would say obsession - and fair enough!) for Boy George, Jon Moss, Mikey Craig and Roy Hay began!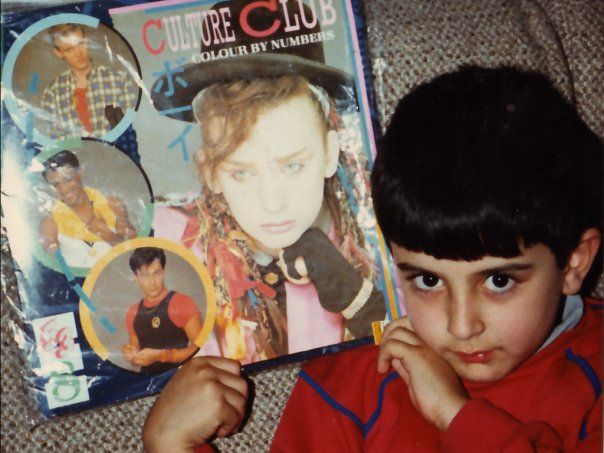 My first venture into the internet was, not surprisingly, looking up Boy George websites - and in 1998, I put together my first website, Lyrically Speaking, which featured all the Culture Club and Boy George lyrics to date. (It's currently being re-designed and updated).
My first Culture Club concert was in February 2000, when the boys brought their "Club Sandwich" tour to Australia, to promote their then-new album "Don't Mind If I Do". Thanks to winning a competition with the Herald-Sun newspaper, I also got to meet George, Jon, Mikey and Roy!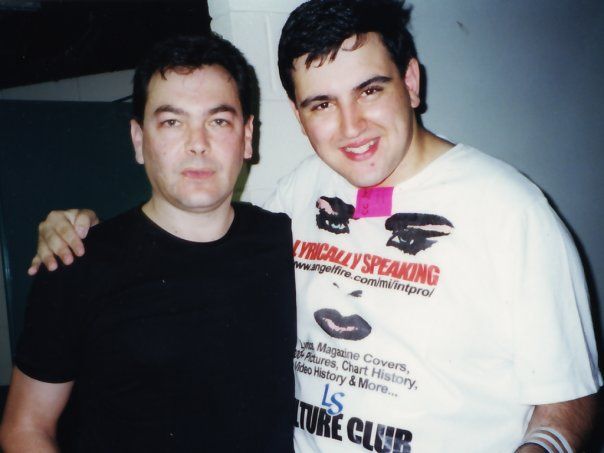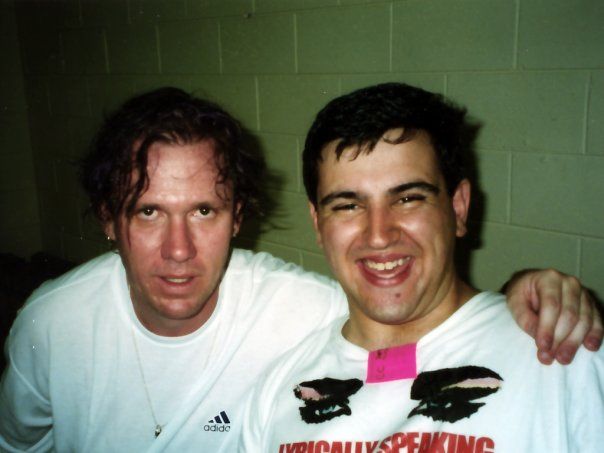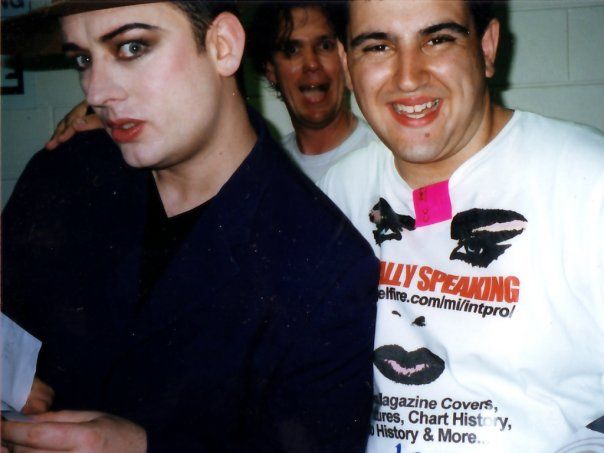 And that brings me to... Cyber Chameleon!
I was contacted by Glenn Cunningham-Vilar, a George fan in Ireland who had been running his 'Boy George News' site since '98, in June 2000. His idea was to collaborate on and merge our two sites - his 'Boy George News' site and my 'Lyrically Speaking' one - it sounded like a great idea - I was a fan of his work and vice versa. Our aim was to create a site that would "rival and surpass" all other Boy George / Culture Club sites on the net.
Unable to devise a suitable name ourselves, we held a 'Name our Website' competition - hoping we would find a name to best identify what we were all about - Culture Club and the web - and Cyber Chameleon, named by Judith, was it!
Launched in August 2000, Cyber Chameleon's first 18 months were a blur. Culture Club toured the US, and Glenn saw a couple shows from that tour and met up with some of his friends who he had corresponded with online. Through online chats, I also got to know Dawn from Canada, and Maria from England, and they quickly became close friends and members of the Cyber Chameleon team (if not visibly, they were integral to how Cyber Chameleon worked behind the scenes!). Working on the site was an enjoyable process, usually preceeded by or followed with hours of chatting and catching up online. Our first year ended on a high in Vancouver, Canada, when I got to meet the rest of the Cyber team for the first time.
2002 saw Boy George's musical Taboo premiere in London, and the Cyber team (except me) met the cast, and interviewed them for the site. Culture Club's "20th Anniversary" shows in the UK were covered extensively by Cyber Chameleon, through Glenn and Maria's observations, who not only went for them, but managed to pop up in the front row of the Royal Albert Hall gig that can now be found in any good music DVD store!
2002 was Cyber Chameleon's collaborative peak - our team dynamics changed after that. Throughout 2003, various personal things kept us from working together, so when we did, it became either a drama or a chore to work on, and to spare us drifting apart as friends, we drifted apart as a working team. Maria and I met up in New York in October, when we were both there for the first preview performance of Taboo on Broadway, brought to the Big Apple by Rosie O'Donnell. Thanks to her and George's team, we were one of the select few who got to see the full dress rehearsal of the show when the first weekend's previews were cancelled. Taboo on Broadway was fantastic - and I was so proud of George work as a songwriter/performer, and Rosie's vision that brought it to its home in the Plymouth Theatre (even if it only lasted for 100 performances).
Anyways... back to Cyber Chameleon, the reason why you're reading this page! Phase one ended in January 2004. Glenn and I had a discussion on everything to do with the site - and agreed that it will continue with myself as sole webmaster. Despite the current incarnation of Cyber Chameleon looking little like it originally did back in 2000, Glenn, Dawn and Maria's footprint on the site remains - as they're always a great sounding board for yours-truly when various ideas and concepts come up.
Cyber Chameleon is focused on bringing you tidbits about each member of Culture Club, where available, though as Boy George is continually in the public eye, it's easy for the focus to shift on him. In the last couple of years, Cyber Chameleon has gone through a few changes - namely the introduction of its own Facebook page - facebook.com/cyberchameleon, the Swappin' page - www.cyberchameleon.com/swappin.html/ (a way in which to swap rare DVDs and CDs of material not commerically available to expand not only Cyber Chameleon's collection, but yours as well, and CYBER-ESQUE, a fanzine collecting and compiling the latest news reports, photos and gossip in a glossy magazine format.

In the last few years, Australia has seen George and Culture Club a few times - Culture Club brought in New Year's Day in Sydney as the headliners of the inaugural Sydney Resolution concert series on the Sydney Harbour in 2012; and with Marc Vedo on their Koolwaters DJ tour, George has done a couple dates in Melbourne and Sydney, and also the "Big Gay Day" in Brisbane a couple years ago.
2016 saw Culture Club tour twice - first in June, and then for a special 'Encore' tour in December. I was lucky enough to briefly meet them both times.

And that brings us to now, where George has been a permanent fixture in Australia throughout 2017, being reintroduced to new and old fans alike through his coaching venture on The Voice. A new solo album, Culture Club's long awaited "Tribes" album, and a tour are in the works! In the meantime, I'll continue to give you the best site I possibly can... Enjoy! (and like/follow me on Facebook - facebook.com/cyberchameleon - as I don't get to update the site often but am on Facebook where the Cyber Chameleon page gets updated regularly.
Adrian,
Cyber Chameleon webmaster, June '17.
Acknowledgements:
Cyber Chameleon as you see it today wouldn't exist without the love, support and advice, inspiration and ideas from the following people - a BIG thank you to:
Glenn Cunningham-Vilar, Dawn Craig, Maria Georgiades - the original Cyber team. May I continue to do you proud!
Alison Hay for continued support at every avenue. Check out www.alisonlouisehay.com to find out how to order her book Pink Prose, a brilliantly written series of moments from her life so far, including a couple Culture Club chapters.
Alison Hay and Matt Jackson for having the best Culture Club site way-back-when - Global Culture (1998-2002) and for the kick-start chats to get Glenn and I to commit to this back somewhere in early 2000!
Rosie O'Donnell for believing in Taboo enough to take it to Broadway! I really enjoyed the show and am disappointed it didn't reach the heights of success it deserved to. I also appreciate the good care you took of me personally regarding merchandising and ensuring I got to see Taboo on Broadway before I left NYC.
David Lindsay, my partner in crime for the "Vanity Case" book - your knowledge and enthusiasm for everything Culture Club not only mirrors mine but surpasses them!
ALL the Australian fans that have become my friends over the years - Josh, Jo, Lisa, Helen, Troy, Chris, Stephen, Rhonda, Michael, Gaye, Jason Forrest, Janelle, Jason Morris, Paul, George, Kym, Jason Clarke, May Taylor, Nat Carolan... I love that we have this little community across the country and that I can count you as my friends who have something amazing in common!
All the lovely souls behind the various George/Culture Club websites, Facebook pages and groups - thank you for keeping us all informed and entertained! I know first-hand how much work goes into these things... it's always appreciated and respected seeing what you come up with.
ALL the overseas fans that have become my friends over the years - there's too many of you to name personally but I'm grateful that Culture Club has brought us together.
EVERYONE Culture Club - George, Jon, Mikey and Roy - and everyone else who works behind the scenes to deliver us the music, the tours, the love over the last (almost) 35 years. Never lose sight of just how much you mean to so many... and keep doing what you do because you're brilliant at it!